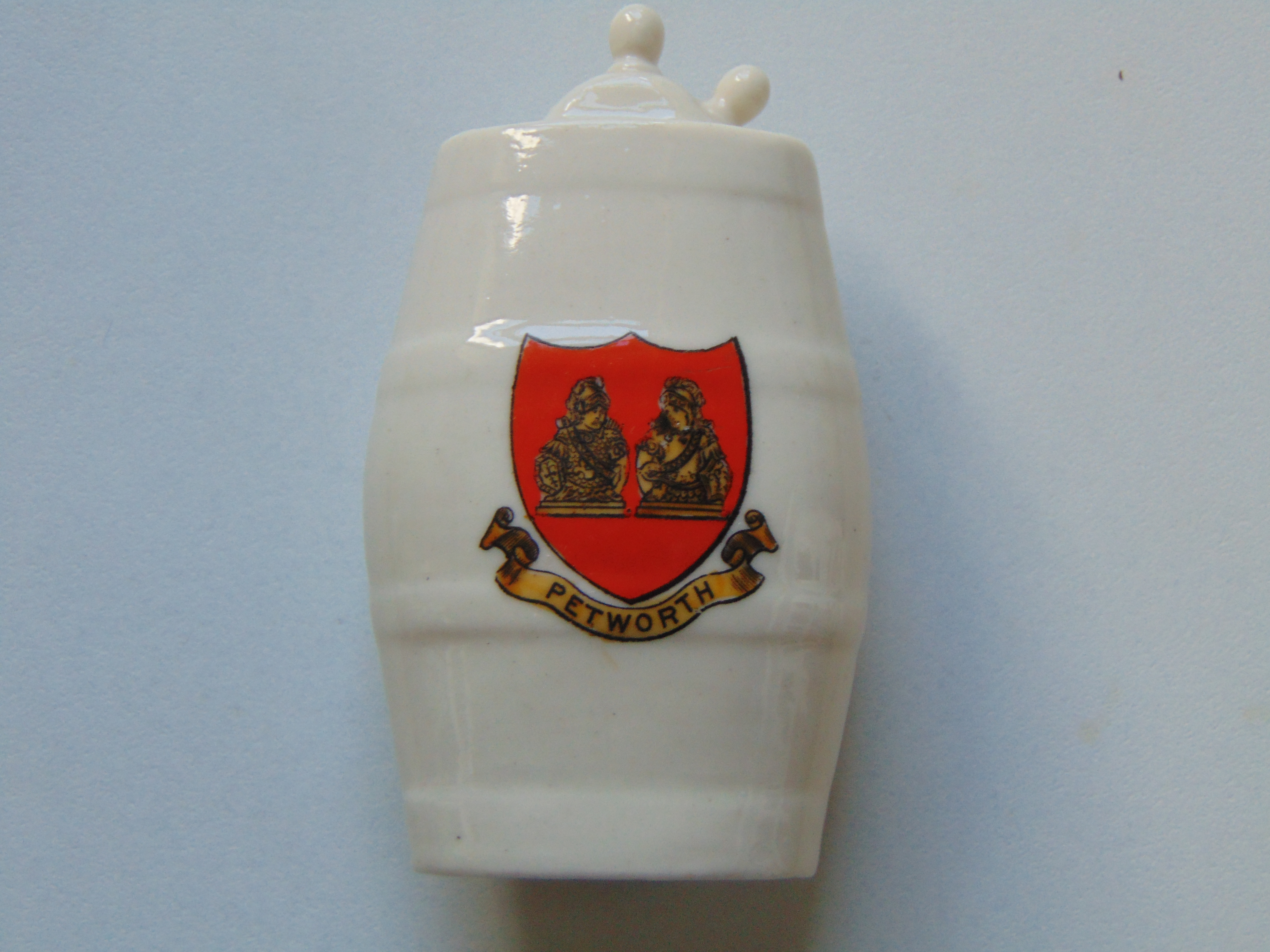 Goss Army Water Bottle in
Petworth Cottage Museum
Petworth Cottage Museum
Petworth Goss China
The Petworth Goss China Collection comprises over 40 various pieces.
Goss China was produced by the Falcon Pottery from the 1880s to the late 1930s. William Henry Goss, the owner, was a keen collector of antiques - which in the 19th century meant Greek and Roman vases. He passed along this interest to his sons. When his son, Adolphus, joined the firm in the early 1880s, he suggested that the firm take advantage of the seaside souvenir collecting craze and produce miniature copies of Greek and Roman vases decorated with the coat of arms of coastal towns to be sold as souvenirs.
The idea proved popular and by the turn of the century, most cities and towns had their own Goss products. It is believed that by 1910, 95% of British homes had some crested china. Besides Greek and roman vases, Goss china came in hundreds of designs, from animals to novelty items, such as cannons and a man in the stocks.
The Petworth crest is the one adopted when the Petworth Parish Council was formed in 1894 and shows Gog and Magog. In the Bible, Magog was one of Noah's grandsons and Gog was the grandson of Jacob. In Revelations, they are mentioned as enemies of the people. Despite their negative description in the Bible, since the time of Henry V, these two giants have been considered guardians of the City of London and images are carried in the Lord Mayor's Show. They were obviously considered guardians for Petworth too and statues depicting them are now on top of the Petworth House gates.
Home Page
Origin and Development
Refurbishment 2021-2
Opening Times
School Visits
Special Events
Map
Visitors' Comments
Mary Cummings
Goss China
Leaflet
Friends Leaflet
Garden
Scullery
Living Room
Bedroom
Sewing Room
Attic
Cellar
Contact
External Links